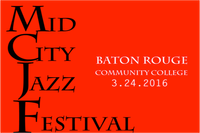 The first annual Mid City Jazz Festival will be held March 24, 2016 in the Magnolia Theater on Baton Rouge Community College's mid-city campus. Dr. Brooks, head of BRCC's audio engineering department, will host the event as part of the school's 10th Annual Arts Festival held that same week. 
"The festival will give high school and middle school jazz ensembles across the state the opportunity to perform in front of professional jazz musicians and educators in a friendly yet competitive environment," said Dr. Brooks. "Judges will score bands throughout the day and provide both written and verbal feedback. Then we will give out awards that evening just prior to a special concert given by the judges in collaboration with me."
Judges for the festival will be Leroy Jones, legendary New Orleans jazz trumpeter; Michael Foster, of the Michael Foster Project; and Dr. Willis Delony, Virginia Martin Howard Professor of Piano and Professor of Jazz Studies at Louisiana State University.
For more information on the first annual Mid City Jazz Festival, please contact us through this webpage or you can reach Dr. Brooks directly at brooksc@mybrcc.edu.