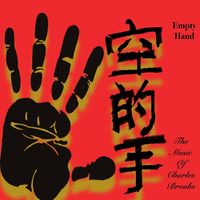 BATON ROUGE – Professional Louisiana percussionist, jazz vibraphonist, and college educator Charles Brooks, DMA has officially released his first full-length solo percussion project entitled Empty Hand. Grounded heavily in the techniques and philosophies of martial arts, the album is a union of martial forms and improvisational percussion techniques focusing on the balancing of rhythm, melody, and harmony to emphasize intangible connections between music, Mother Nature, and martial arts. The album is entirely composed by, played by, recorded by, and mastered by Dr. Brooks. 
Empty Hand features of an array of percussive instruments ranging from classical percussion (snare drum, timpani, xylophone, etc.) and keyboard percussion (vibraphone, marimba, piano), to various types of hand drums, finger drums, and metallophones. In addition to exploring various martial forms ("Empty Hand", "Day Time Obstacle"), two-man interactions ("Night Time Skirmish", "Rumble at the Dock"), and weapons forms ("Saber", "Staff"), Empty Hand also features six meditations – each primarily led by the waxing and waning of the gdrum. Also known as the Garrahand drum, the gdrum is a lightweight acoustic tuneable steel tongue drum played with the fingers, which you can connect with loopers and FX pedals through its internal pickup to create inimitable sounds. With its proprietary tuning system and its seven tongues, the gdrum can be set to multiples scale and perform any type of music. Brooks is currently the only known percussionist in Louisiana actively playing, recording, and performing with the gdrum. 
Empty Hand is currently available for sale/download on iTunes, Spotify, Google Play, Amazon Music, Rhapsody, TargetMusic, Tracks, Shazam, iHeartRadio, Napster, Juke, Groove, Saavn, Spinlet, Neurotic Media, Boomplay Music, MixRadio, Gracenote, Medianet, Akazoo, and over 100 other digital media outlets. Simply select your desired outlet and search "Charles Brooks." 
An LSU doctoral alum, Dr. Charles Brooks is head of the audio engineering department within the Entertainment Technologies division at Baton Rouge Community College, where he is founder and host of the annual Mid City Jazz Festival. He is also a professional jazz vibraphonist, percussionist, hand drummer, pianist, composer, clinician, and educator in the Greater Baton Rouge and surrounding areas. Additionally, Brooks is Louisiana's only four-mallet vibraphonist actively performing across multiple genres. He performs solo, privately and publicly, on the vibes and drum set and with his groups, The Charles Brooks Jazz Trio and The Charles Brooks Collective, as well as part of The John Gray Jazz Trio, The Michael Foster Jazz Trio, and as a guest musician with other local and regional musicians. Read more about Charles Brooks, DMA at www.TheCharlesBrooks.com. 
###
To sample the album, click on MUSIC in the tabs and scroll down to ALBUMS, or you can search on iTunes, Spotify, iHeartRadio, Napster, Shazam, etc.