Louisiana Jazz Musician Charles Brooks, DMA Announces the Release of His First Full-Length Solo Jazz Album SOUL MAGNET 
BATON ROUGE — FOR IMMEDIATE RELEASE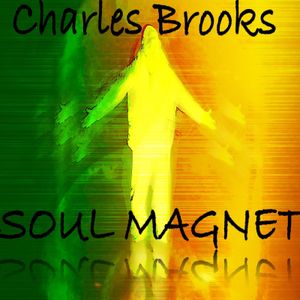 Professional Louisiana jazz vibraphonist and percussionist Charles Brooks, DMA proudly announces the release of his long-awaited, first full-length jazz album Soul Magnet. The album officially released Tuesday, Oct. 1, and is currently available on iTunes, Pandora, Spotify, CDBaby, and over two dozen other music streaming platforms. Soul Magnet is Brooks's first solo jazz LP and follows two other recently released full-length solo projects. 
Soul Magnet is an eclectic mix of various jazz styles and is comprised of nine deeply moving instrumental tracks Brooks composed himself. Featuring the wildly melodic and innovative 4-mallet vibraphone talents he is known for, the album also showcases Brooks's creative improvisational expertise on drum set, hand drums, piano, guitar, and various other instruments, each in accompaniment to the vibraphone. And, with a digital side of music performance represented, the album also has a groovy jazz fusion vibe to it, truly making the listening experience a stimulating exploration of jazz hallmarks. 
Soul Magnet features tracks reflective of older, more traditional jazz styles all the way to modern electric and acoustic styles, even surprising the listener with a beautiful symphonic jazz piece. Carrying an overall theme of both artistic and personal influence, the album organically draws the listener in on how it feels to be forever influenced and inspired so deeply and permanently by people and experiences we encounter, from parents, mentors, pets, and significant others on to friends and memorable experiences. 
"The album is, in a sense, a sonic re-telling of my life. The name is a play on words for me because I've been lucky in attracting the right people into my life, and that led to deeply personal experiences that have made me who I am today. And because I have the ability to attain musical spirit, each tune is meant to be an audial metaphor of the influential effect(s) that a special person or experience had on me and my life, which continues to inspire me greatly," says Brooks. 
Soul Magnet is the third solo LP released by Brooks in 13 months. It follows his first solo percussion album Empty Hand (2018) and his second solo LP Inward Reflection: Music for Meditation and Relaxation (2019). Each album was solely written, recorded, mixed, and mastered by Brooks in his private studio and is available on his website. 
Charles Brooks, DMA is a professional jazz vibraphonist, percussionist, hand drummer, audio engineer, clinician, composer, and college educator in Baton Rouge. He is Louisiana's only actively performing 4-mallet vibraphonist and performs solo, with his jazz trio, as part of the John Gray Jazz Trio, and as part of the Michael Foster Jazz Trio. Additionally he is a four-time Grammy-nominated educator, selected Fall 2018 for inclusion in the AcademicKeys Who's Who in Community Colleges Higher Education. 
For further information on Charles Brooks and his music, please visit www.TheCharlesBrooks.com/music#albums.