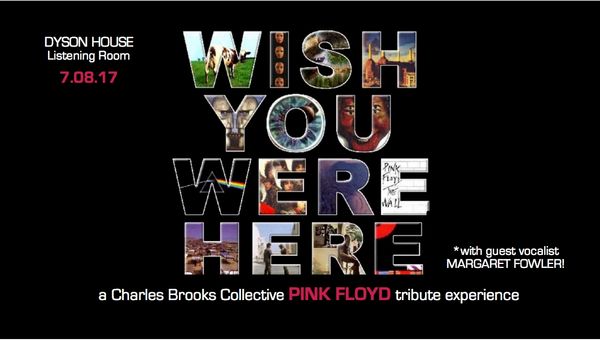 PSST ... HEY YOU! Yep, this is happening ... for real!!!
On Saturday, July 8, Baton Rouge's explosive new (instrumental) experimental jazz-fusion group The Charles Brooks Collective will present an original, never-heard-before Pink Floyd WISH YOU WERE HERE tribute experience at Dyson House Listening Room, 7:00 p.m., in Baton Rouge, LA. Joining them will be special guest vocalist Margaret Fowler. Tickets are currently on sale and can be purchased RIGHT HERE. ***Seating is LIMITED, so be sure and secure your seats as soon as possible! While the focus of the show mainly will be on Floyd's WISH YOU WERE HERE album, The Collective's tribute will also feature interpretation of other classics like "Time" and "Comfortably Numb," to give just a taste.
With roots deeply grounded in modern improvisational jazz techniques, The Charles Brooks Collective consists of classically trained musicians known for their individual talents as well as their ability to communicate on stage and as a whole simply with the powerful, high-energy interaction dancing between their instruments. Having just come on the music scene in February 2017, it became instantly clear that The Collective isn't just a group of skilled musicians standing on stage playing music for a crowd to listen to; they are true professionals providing audiences with mind-blowing experiences via personal backstories and musical journeys. Lead by Louisiana's only four-mallet vibraphonist, The Charles Brooks Collective features Chris "the Katt" Lee on drum set, Mr. Robert Kling on upright and electric bass, Dr. John Bishop on electric guitar, and, known for his wildly innovative percussive improv abilities, Dr. Charles Brooks on electric vibraphone and various hand drums.
For more information on The Charles Brooks Collective, click HERE or visit and LIKE them on Facebook @TheCharlesBrooksCollective. 
We'll see you on July 8 ... and don't make us WISH YOU WERE HERE!