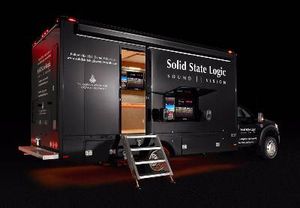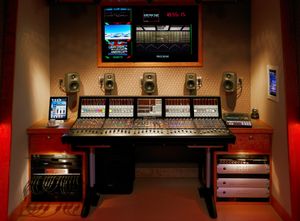 International Audio Component Manufacturer SOLID STATE LOGIC to Bring Mobile Production and Recording Studio to BRCC 
BATON ROUGE, LA -- Baton Rouge Community College will host Solid State Logic's custom-designed mobile production bus - The Broadcast Equipment Vehicle - on Wednesday, March 8 from 1 p.m. to 5 p.m. on its Mid City campus. Current and prospective students interested in BRCC's Entertainment Technology Program are invited to receive guided tours of the bus, to be led by ETEC audio engineering professor, Charles Brooks, DMA. 
Presented by the Entertainment Technology (ETEC) program of the Liberal Arts Division at BRCC, The Broadcast Equipment Vehicle tour will provide a hands-on experience in Entertainment Technology. The vehicle is equipped with high-end mixing consoles and recording studio hardware, in conjunction with all of the key audio and video monitoring and communications systems required for a modern broadcast production facility. The space can accommodate several people, and a larger group can watch demonstrations from outside of the vehicle via an external audio monitoring system and video display, which is linked to internal cameras. 
Solid State Logic, an international recording studio company, is the world's leading manufacturer of analog and digital audio consoles and creative tools for film, audio, video and broadcast professionals. 
Dr. Charles Brooks, whose audio engineering program focuses on teaching students to be ready for professional opportunities in live sound and in studio recording, is looking forward to SSL's visit: "It is very important because [their demo bus] will expose my audio students to a different type of Digital Audio Workstation, or DAW. To be competitive in the music and recording industry, students need to know how to work with various systems and software programs." 
Furthermore, says Brooks, "this visit is key in developing relationships with major industry leaders in order to provide BRCC students with that competitive edge required in today's workforce. Joining forces with recording and production companies is an integral component to keeping Digital Arts programs alive, current, and viable in Louisiana. Technology changes rapidly and the only way we are able to keep up with those changes and ensure our department's future is through working with industry leaders like Solid State Logic. It is an honor to have them here." 
BRCC offers the Associate of Applied Science in Entertainment Technologies (AAS) degree for students who wish to prepare for immediate entry into the Louisiana entertainment industry. In the degree program, students learn about media production and the structures of the music, film, and video game industries. The program of study is not intended for college transfer. Available areas of study are Film, Audio Recording, or Gaming and Digital Media. 

For more information on the Audio Engineering program at Baton Rouge Community College, please contact Dr. Brooks at BrooksC@mybrcc.edu or via this website.