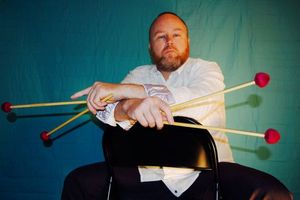 BATON ROUGE – FOR IMMEDIATE RELEASE 
Louisiana's favorite four-mallet jazz vibraphonist Dr. Charles Brooks is bringing weekly live music entertainment to the masses with his Friday Night Vibes music series. Each Friday night at 8:00 p.m. Brooks livestreams a one-hour concert on Facebook, Instagram, Twitter, and Periscope from his music dojo in Central, LA. In an atmosphere full of southern ambiance, Brooks offers more than just music to listeners; he brings physical visual entertainment as well by showcasing those wildly innovative, multi-mallet improvisational vibraphone techniques for which he is known.  
Set lists include but are not limited to Charles Brooks originals, popular jazz classics and standards like "What A Wonderful World," "Bye Bye Blackbird," "Girl from Impanema," and "In A Sentimental Mood," for example, as well as  vibraphonic interpretations of your favorite classic rock, blues, and funk tunes. Previous shows have included Lynyrd Skynyrd, Pink Floyd, The Beatles, Jimi Hendrix, Alice in Chains, Jim Croce, Bob Marley, Styx, The Allman Brothers, Bill Withers, and Prince, to name a few, and the tributes don't end there. If you listen closely, you just might hear music from some of your favorite movies of the 80s and 90s. Each concert features different tunes interpreted on the vibraphone, and there is no fee to tune in live and watch the show. All that is required is an internet signal and plenty of LIKES, comments, shares, and love!  
"I'm a musician because I genuinely love music. I love playing music, and I care about how it reaches and affects people. When this quarantine happened and so many lost their jobs, I knew people needed a release. My hope is that by providing a live show centered around relieving stress with the sonorous textures of the vibraphone and by working with tunes everyone knows, that we can all still connect together even if we can't be together," said Brooks. "I started this series April 3rd and have no plans to discontinue it, even when the quarantine is lifted and life settles into some sort of normalcy again. Then at that point, I'd love to continue the series from local public and music venues." 
Friday Night Vibes continues every Friday night at 8:00 p.m. CST. Shows stream live on Facebook @thecharlesbrooksmusic, on Instagram, and on Twitter and Periscope.tv @theCBDMA. Previous Friday Night Vibes shows can be found online at www.TheCharlesBrooks.com/friday-night-vibes.