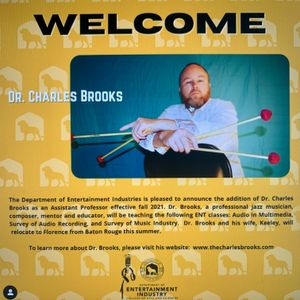 It is with extreme joy that Dr. Charles Brooks announces his acceptance of his new academic position with the University of North Alabama in the Muscle Shoals area. Come August 2021, he will be the new Assistant Professor of Audio Engineering in the Entertainment Industry department at UNA (Geaux Lions!).
Said UNA communications, "The Department of Entertainment Industries is pleased to announce the addition of Dr. Charles Brooks as an Asst. Professor [to our entertainment department] ... he will be teaching the following entertainment courses this fall: Audio in Multimedia, Survey of Audio Recording, and Survey of Music Industry. We look forward to having him as part of our team."
Brooks is currently wrapping up his final semester at Baton Rouge Community College and putting finishing touches on his fourth solo album, Soul Survivor, set to release early this summer. 
"I'm grateful to have had the opportunity to educate and mentor so many bright students over the years," said Brooks. "I'm hopeful for what the future holds, and I look forward to everything UNA and the Muscle Shoals area has to offer. My wife and I couldn't be more excited for this next step."
Currently you can catch Dr. Brooks LIVE every Friday night as he streams his weekly jazz concert series Friday Night Vibes at 8 p.m. CST on social media platforms, as well as through his website, www.TheCharlesBrooks.com/friday-night-vibes. 
AND, you'll have a huge chance to see Brooks perform LIVE, in person, on Friday, May 28, 7:30 p.m. as part of the Greater Baton Rouge Arts Council's Jazz Listening Room series. This show will take place outdoors on the patio of Chorum Hall, and masks and social distancing will be required to attend. May 28 will be a slammin' once-in-a-lifetime chance to see the south's premiere four-mallet jazz vibraphonist working his magic through FX pedals as he rocks the funk out with Michael Foster of the MFP on stand-up bass, Chris "The Katt" Lee on drums, yours truly on vibraphone, and two very special guest musicians from Nashville, TN. This show is GUARANTEED to rock any COVID memories right out of your bones and replace it all with spectacular music and magic in the air. So mark your calendars! This show WILL NOT be streaming. It is in person, ticket sales only.
Seating IS limited and tickets will go fast.
GET YOUR TICKETS TODAY HERE: https://bontempstix.com/events/the-jazz-listing-room-featuring-dr-charles-brooks-5-28-2021
Be sure to stop by and leave Dr. Brooks some comments on his blog or any of his social media pages!
Then come celebrate the magic of music with us on May 28! 

As always, BE EXCELLENT TO EACH OTHER, and everybody love everybody. ( -Dr. B)